-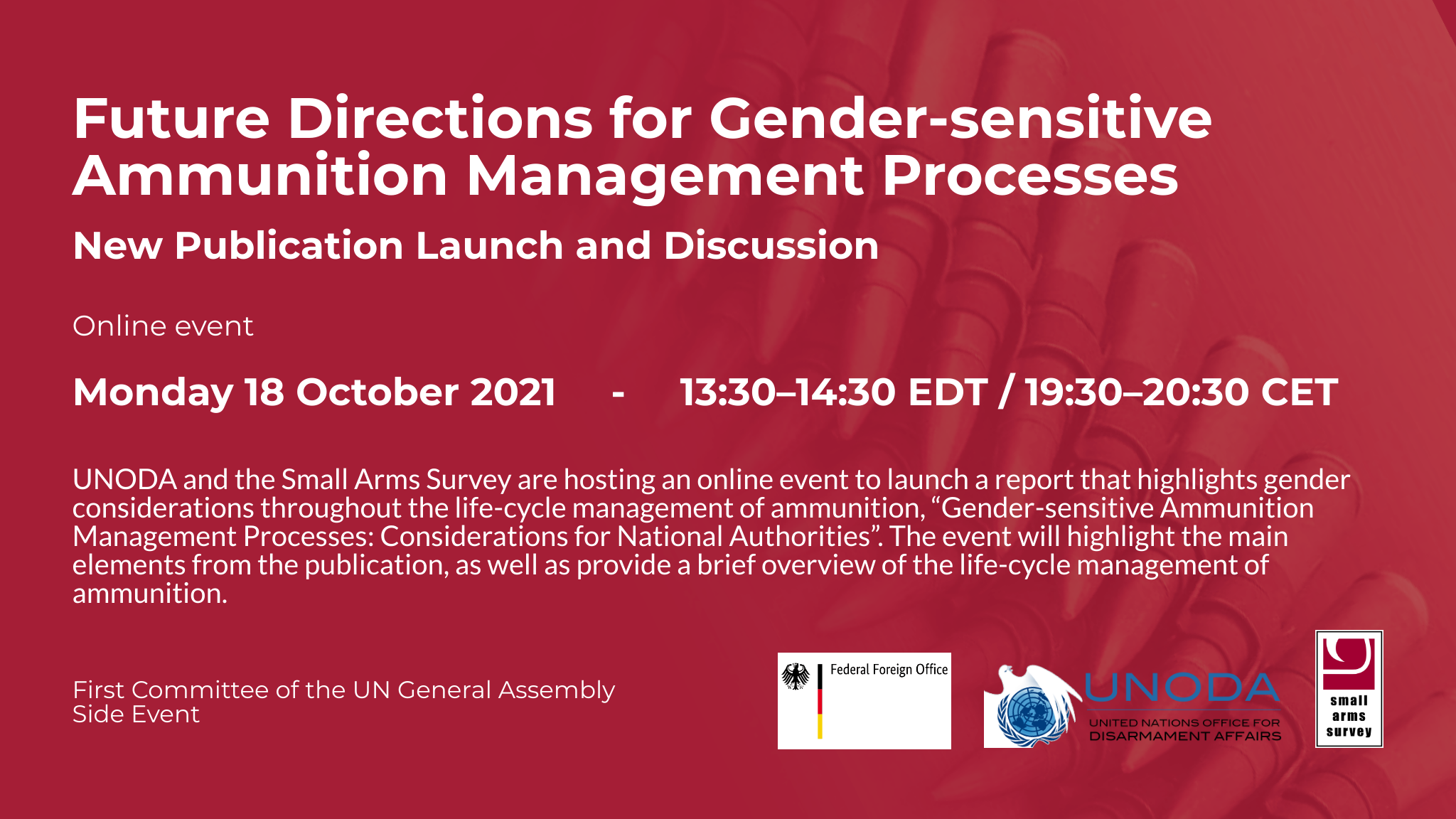 Side Event
Online Event (via Microsoft Teams)
'Future Directions for Gender-sensitive Ammunition Management Processes' - New Publication Launch and Discussion
Side Event (Online)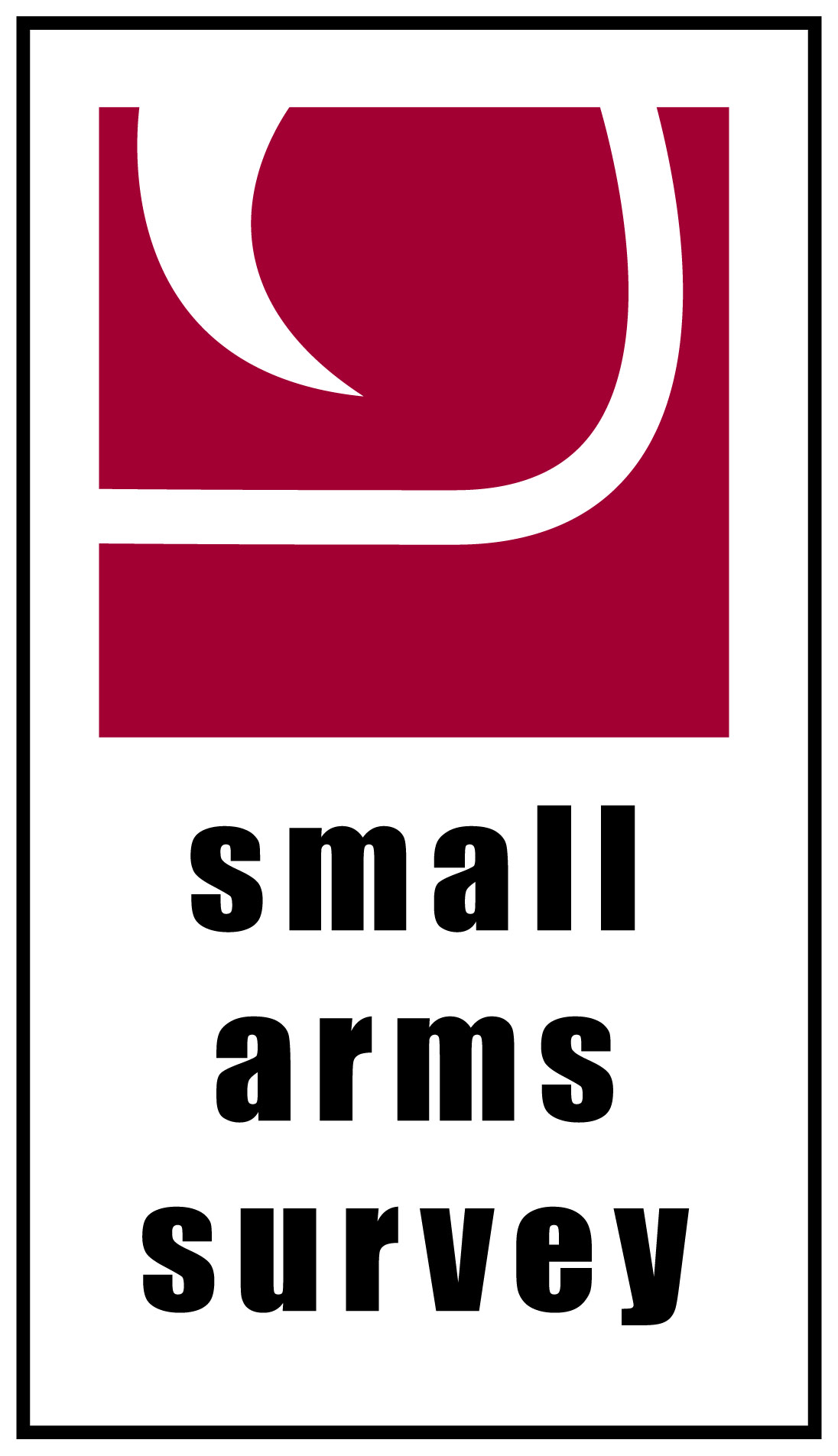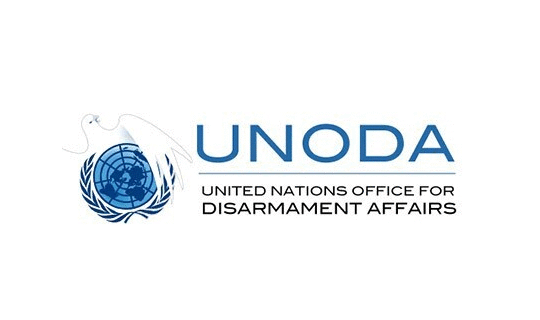 First Committee of the UN General Assembly
Monday 18 October 2021, 13:30–14:30 EDT  /  19:30–20:30 CET
As the UN General Assembly receives the Final Report of the Group of Governmental Experts (GGE) on problems arising from the accumulation of conventional ammunition stockpiles in surplus, Member States will consider developing a more comprehensive approach to conventional ammunition management processes, one that addresses not only safety but security. One aspect that the GGE highlighted was the "value of considering ammunition management throughout its life cycle, using a gender analysis, in order to identify relevant entry points for gender mainstreaming" (A/76/324, para 81).
While gender analysis has been introduced to address a variety of aspects of small arms control, it has received less attention in the ammunition-specific domain, especially outside of stockpile management concerns. In response to this knowledge gap, the United Nations Office for Disarmament Affairs (UNODA) is implementing a project to promote effective, safe and secure ammunition management through the development of gender-responsive guidance, including in the framework of the International Ammunition Technical Guidelines (IATG) and the UN SaferGuard Programme.
Following the release of a briefing paper last year, UNODA and the Small Arms Survey are hosting a virtual event to launch a report that highlights gender considerations throughout the life-cycle management of ammunition, "Gender-sensitive Ammunition Management Processes: Considerations for National Authorities", on the margins of the First Committee of the 76th session of the UN General Assembly.
The event will highlight the main elements from the publication, as well as provide a brief overview of the life-cycle management of ammunition.
Please click on the below link to register for the event.
---
Agenda
13:30–13:35 (EDT)   Opening remarks                                       19:30–19:35 (CET)

 

Mr. Adedeji Ebo
Chief
Conventional Arms Branch
UN Office for Disarmament Affairs

13:35–13:45 (EDT)   The UN ammunition processes and gender 19:35–19:45 (CET)

Ms. Sandrina Köbinger
Desk Officer
Conventional Arms Division
Federal Foreign Office of Germany

13:45–13:55 (EDT)   Life-cycle Management of Ammunition   19:45–19:55 (CET)

Mr. Marco Baccini    
WAM Specialist
Small Arms Survey

13:55–14:15 (EDT)   Presentation of the guide                          19:55–20:15 (CET)

Mr. Emile LeBrun
Project Coordinator
Gender and Ammunition Management
Small Arms Survey

14:15–14:30 (EDT)   Discussion and Q&A                                 20:15–20:30 (CET)

 

14:30 (EDT)             Closing                                                                   20:30 (CET)

 
The event is moderated by Takuma Haga, Political Affairs Officer, UN Office for Disarmament Affairs
For more information, please contact Takuma Haga at takuma.haga@un.org.
The publication of the guide was made possible by financial support from the German Federal Foreign Office.