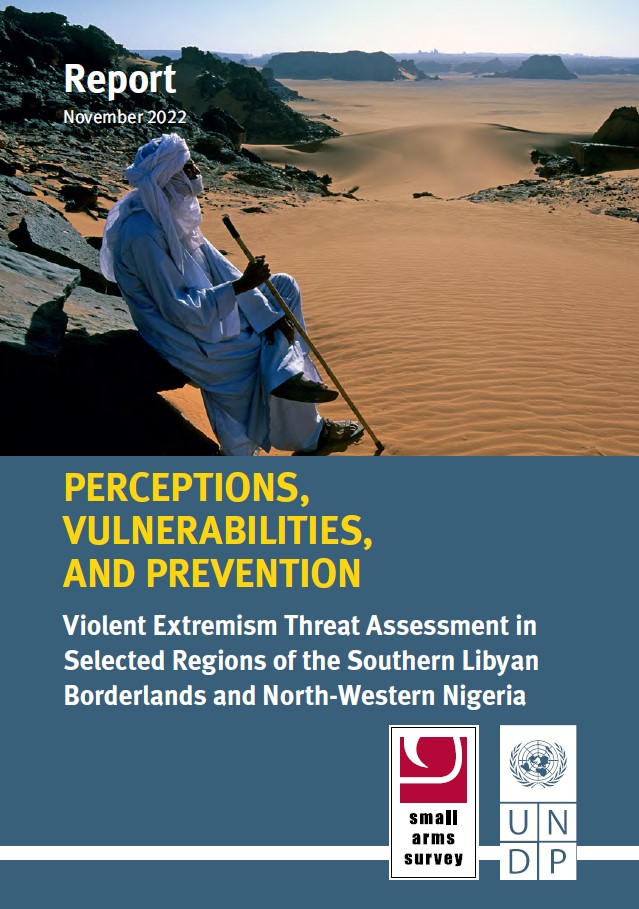 New report examines the perceptions of violent extremism risk factors in the southern Libyan borderlands and north-western Nigeria
GENEVA—The Sahel is home to a number of marginalized borderlands—such as Libya's southern border region—characterized by the movement and activities of various armed groups, the absence of strong state institutions, and the prevalence of disparaged communities. Potentially, the combination of these factors makes the subregion more exposed to risk; the 2017 Journey to Extremism in Africa report by the United Nations Development Programme (UNDP) found that individuals raised in such borderlands can be especially vulnerable to recruitment by violent extremist groups.
Perceptions, Vulnerabilities, and Prevention: Violent Extremism Threat Assessment in Selected Regions of the Southern Libyan Borderlands and North-Western Nigeria—a new report by the Small Arms Survey and UNDP—seeks to better understand the dynamics of these risk factors in southern Libya and the neighbouring countries of Chad, Niger, and Sudan, as well as Nigeria. It relies on quantitative surveys of people's perceptions of drivers, actors, and values associated with violent extremism. A total of 6,852 original interviews were undertaken in these selected border regions between December 2020 and July 2021.
The report finds that hardship and deprivation, the combination of discrimination and marginalization along ethnic, tribal, or religious lines, and a comparatively limited access to basic services, are of particular concern from a prevention of violent extremism (PVE) perspective. The report also notes that perceptions of small arms varied significantly across the case studies, with respondents in Nigeria and Sudan reporting the highest levels of proliferation. The sources of weapons cited by respondents included the illegal market, the legal market, craft production, inheritance, state authorities, and employers.
Read the full Report in Arabic, English, and French:
التصورات، ومكامن الضعف، وسُبل المنع تقييم تهديد التطرف العنيف في مناطق مختارة من الأراضي الحدودية بجنوب ليبيا وشمال غرب نيجيريا
Perceptions, Vulnerabilities, and Prevention: Violent Extremism Threat Assessment in Selected Regions of the Southern Libyan Borderlands and North-Western Nigeria
Perceptions, vulnérabilités et prévention: Une évaluation de la menace que représente l'extrémisme violent dans quelques zones frontalières du sud de la Libye et au nord-ouest du Nigeria
--------------------
More news from the Survey: