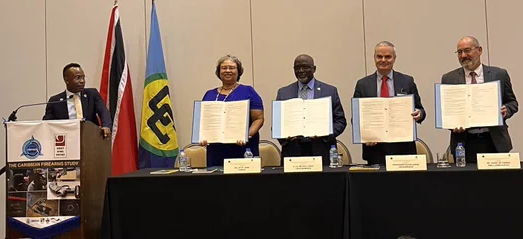 The Small Arms Survey signs project partnership with CARICOM IMPACS, the Caribbean Public Health Agency (CARPHA), the University of the West Indies George Alleyne Chronic Disease Research Centre (GA-CDRC)
PORT OF SPAIN—The CARICOM Implementation Agency for Crime and Security (IMPACS), the Caribbean Public Health Agency (CARPHA), the George Alleyne Chronic Disease Research Centre at the University of the West Indies (GA-CDRC) and the Small Arms Survey formally launched their project partnership, 'Pathway to Policy: Integrating Security and Public Health Responses to Firearms Trafficking and Violence', with the signing of a Letter of Intent.
Building on the findings and recommendations from the Caribbean Firearms Study published earlier in 2023 by CARICOM IMPACS and the Survey, the 'Pathway to Policy' project aims to:
enhance the availability and quality of relevant and timely data and analysis on matters of firearms proliferation and misuse in the Caribbean; and
engage regional security, public health and research stakeholders through regional knowledge sharing and policy prioritization.
These aims support an effective pathway from regionally grown research to evidence-based policymaking to prevent and reduce the risk of firearms-related firearms trafficking and violence.
Established in July 2006, IMPACS is the implementation arm to manage CARICOM's action agenda on crime and security, with direct responsibility for research, monitoring and evaluation, analysis, and reporting, as well as project development and implementation of the regional Crime and Security agenda.
CARPHA is the single regional public health agency for the Caribbean. Established in July 2011 by an Inter-Governmental Agreement signed by Caribbean Community Member States, it began operations in January 2013. The Agency rationalises public health arrangements in the region by combining the functions of five Caribbean Regional Health Institutes (RHIs) into a single agency.
Founded in 1992 by the University of the West Indies, in collaboration with the Ministry of Health and Wellness of the Government of Barbados, GA-CDRC works to aid the health and well-being of Caribbean and global populations through innovative research, training, and strategic partnerships, providing timely information for sustainable development.
The Small Arms Survey, an associated programme of the Graduate Institute of International and Development Studies in Geneva, is a global centre of excellence whose mandate is to generate evidence-based, impartial, and policy-relevant knowledge on all aspects of small arms and armed violence.
Hosted by CARICOM IMPACS, the Letter of Intent for the project partnership was signed by Executive Director Lt. Col. Michael Jones from CARICOM IMPACS, Executive Director Dr. Joy St. John from CARPHA, Pro Vice Chancellor and Principal of UWI Cave Hill Campus Prof. R. Clive Landis, and Director Daniel de Torres from the Small Arms Survey on 5 September 2023, Port of Spain, Trinidad.