UN sanctions and arms embargoes
The UN applies sanctions to a number of conflicts and actors, including both state and non-state actors. 'The use of mandatory sanctions is intended to apply pressure on a State or entity  to comply with the objectives set by the UN Security Council, without resorting to the use of force' (UNSC, n.d.a). Sanctions are thus coercive measures that the Security Council uses to enforce its decisions. It does so based on the powers that Chapter VII of the UN Charter confers on it.  
As at May 2019, 14 UN sanctions regimes and 11 mandatory arms UN embargo regimes are in force (see Table 1). No non-mandatory UN arms embargoes are in force.
Table 1 UN sanctions regimes and arms embargoes currently in force
Target state or entity
Measures in force
Additional measures
Sanctions committee established

Panels of experts/
monitoring mechanisms established

Arms embargo
Travel ban
Asset freeze

Central
African
Republic

X
X
X
 
2013
2013
Democratic Republic of the Congo
X
X
X
X
2004
2004

North Korea

X
X
X
X
2006
2009
Guinea-Bissau
 
X
 
 
2012
 
The non-state groups Islamic State (IS) and al-Qaeda**
X
X
X
 
1999
2001
Iraq
X
 
X
 
2003
 
Lebanon
 
X
X
 
2005
 
Libya
X
X
X
X
2011
2011
Mali
 
X
X
 
2017
2017
Somalia*
X
X
X
X
1992
2002
South Sudan
X
X
X
 
2015
2015
Sudan
X
X
X
 
2005
2005
Taliban**
X
X
X
 
1999
2001
Yemen
X (targeted arms embargo)
 
 
 
1995
2014
* By Resolution 2444 (2018), the Security Council terminated the Eritrea sanctions regime, modified the mandate of the committee accordingly and replaced the Monitoring Group on Somalia and Eritrea with the Panel of Experts on Somalia.
** By resolutions 1988 (2011) and 1989 (2011) the Security Council decided that the list of individuals and entities subject to the measures would be split in two. The committee was henceforth known as the al-Qaeda Sanctions Committee, mandated to oversee the implementation of the measures against individuals and entities associated with al-Qaeda. A separate committee was established to oversee the implementation of the measures against individuals and entities associated with the Taliban in constituting a threat to the peace, stability, and security of Afghanistan.
UN sanctions regime on North Korea
Normative framework
Through Resolution 1718 (2006) the UN Security Council imposed a range of multilateral sanctions, including an arms embargo, on North Korea, in order to reduce or eliminate the threat posed to international peace and security by the country's nuclear test of October 2006 and its announced withdmaprawal from the Treaty on the Non-Proliferation of Nuclear Weapons (UNSC, 2006).
Since 2006 the Security Council has introduced new sanctions and expanded the arms embargo on North Korea several times.
Through ten operating resolutions the Security Council has created the most complex array of restrictions that the UN has ever imposed on any state or non-state actor.  
Reporting
The UN sanctions regime on North Korea requires UN member states to periodically report on steps taken in response to violations or attempted violations of sanctions.
National implementation reports (NIRs) detail how UN member states are applying approved sanctions. While reporting is a legal obligation for member states, only a limited number of countries have submitted NIRs.
As at May 2019, the following states have submitted NIRs under one or more UN resolutions (UNSC, n.d.b).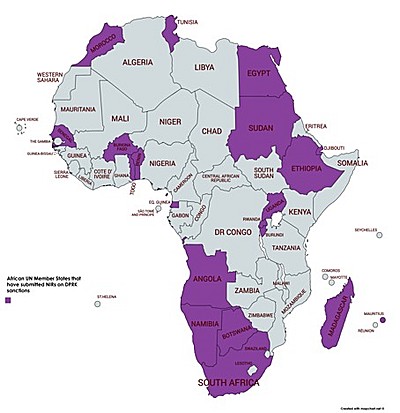 Countries that have cooperated with the UN Panel of Experts
The national authorities of a number of countries have responded to the UN Panel of Experts requests in relation to possible cases of non-compliance with the UN sanctions and arms embargo on North Korea.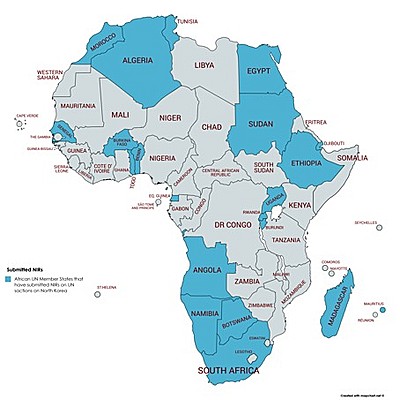 Tools to support implementation/enforcement
UN sanctions and arms embargoes: relevant actors and bodies
Various actors and bodies are responsible for adopting and enforcing UN sanctions and arms embargoes. More information here.
Implementation assistance notices
Seven implementation assistance notices (IANs) further elaborate the nature and extent of sanctions on North Korea. These notices are designed to provide UN member states with information and interpretive guidance on the implementation and enforcement of targeted sanctions.
---