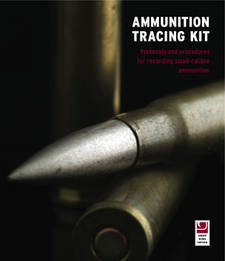 Ammunition Tracing Kit: Protocols and procedures for recording small-calibre ammunition
The Ammunition Tracing Kit is designed to enable rapid, reliable, and responsible reporting of small-calibre ammunition in a variety of circumstances. It provides instructions for reporting on ammunition recovered at crime scenes and on cartridges collected during disarmament or weapons collection programmes; it also supplies guidelines for investigating parties to armed conflict or crime.

In addition, the Kit includes the information needed to judge the validity and reliability of the data collected, understand the limitations of tracing data, and generate comparable information. While offering guidance on issues such as safety considerations, the Tracing Kit also outlines the Small Arms Survey's comprehensive, evidence-based approach to ammunition tracing and its commitment to providing secure, impartial, and timely analysis of ammunition data.
Download the sections in English:
Also available in FRENCH.
Keywords:
Ammunition
Tracing