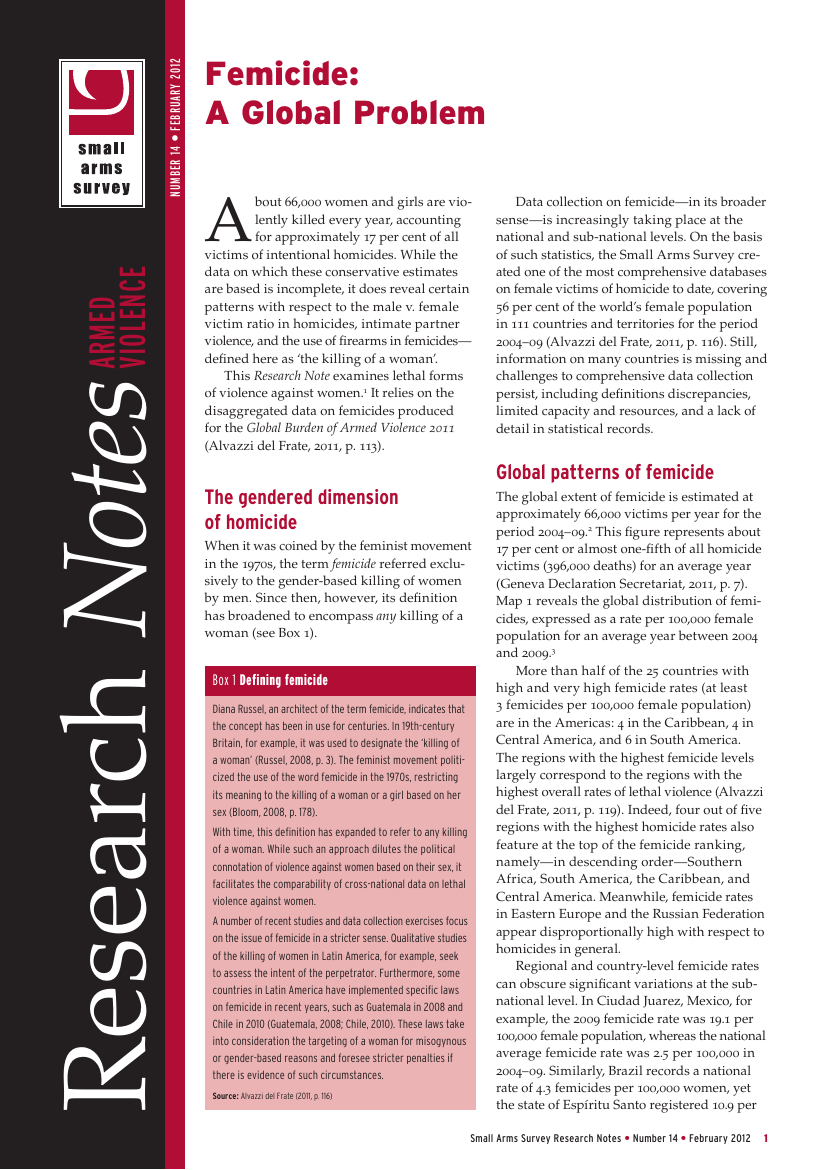 Femicide: A Global Problem (Research Note 14)
Publications
Research Note
Rates of femicide—acts of homicide in which the victim is a woman or a girl—are significantly higher in countries and territories affected by high or very high overall homicide rates. With a rate of 12.0 per 100,000 people, El Salvador is the country with the highest femicide rate, followed by Jamaica (10.9), Guatemala (9.7), and South Africa (9.6) (2012).
Femicide: A Global Problem, a Research Note from the Small Arms Survey, offers a concise examination of lethal forms of violence against women, drawing on the disaggregated data on femicides produced for the Global Burden of Armed Violence 2011, published by the Geneva Declaration on Armed Violence and Development.
About 66,000 women and girls are violently killed every year, accounting for approximately 17 per cent of all victims of intentional homicides. In countries marked by high levels of lethal violence, women are more frequently attacked in the public sphere; in this context, femicides often take place in a general climate of indifference and impunity (2012).
The regions with the highest femicide levels largely correspond to the regions with the highest overall rates of lethal violence. Eastern Europe and the Russian Federation, however, show disproportionally high rates of femicide with respect to homicides in general (2012).
Firearms play an important role in lethal violence, and the display of firearms—as a means to intimidate, threaten, or coerce someone—is a predictor of their actual use.
Intimate partner violence is widespread and, as part of an abusive relationship, it can easily become lethal. Prolonged exposure to intolerable levels of violence at home can also lead a victim to commit 'forced suicide'.
Accurate information is a key to understanding the characteristics of femicide and to developing sound, evidence-based policy responses to enhance security for women around the globe.
Keywords:
Femicide
Gender