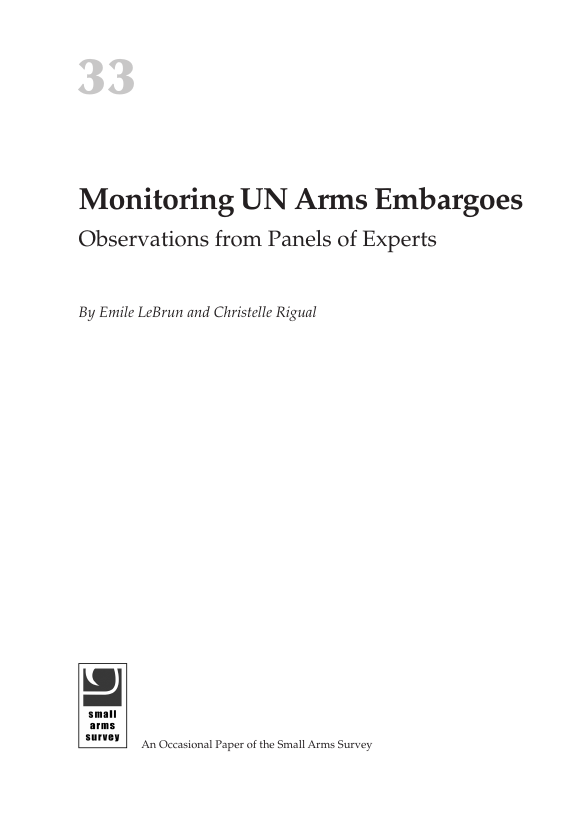 Monitoring UN Arms Embargoes: Observations from Panel of Experts (Occasional Paper 33)
Publications
Occasional Paper
Experts charged with monitoring United Nations arms embargoes identify numerous organizational, operational, and political obstacles to their work, according to Monitoring UN Arms Embargoes: Observations from Panels of Experts, a new study released today by the Geneva-based Small Arms Survey. Interviews with current and former arms experts on UN Panels of Experts (PoEs) reveal that the monitoring process is undermined by uneven coordination with UN peacekeeping operations; the blocking of access to investigation areas; insufficient investigative time frames; and political interference and retaliation for PoE reporting. Experts maintain that despite these challenges, monitoring helps to prevent embargo violations, in part by increasing the associated risks.

UN PoEs are independent investigative teams contracted by the UN to monitor the implementation of Security Council sanctions, which are frequently imposed on countries experiencing or emerging from conflict. Panels report to UN Sanctions Committees, and their reports provide a wealth of information about embargo compliance as well as conflict and security dynamics.
This report points to a need for continued reform efforts regarding the oversight, management, and access prerogatives of panels. Many of these efforts are outlined in the High Level Review of United Nations Sanctions (2015).
Have your say about Small Arms Survey publications and products: take 5 minutes to fill out our questionnaire.
Keywords:
Embargo