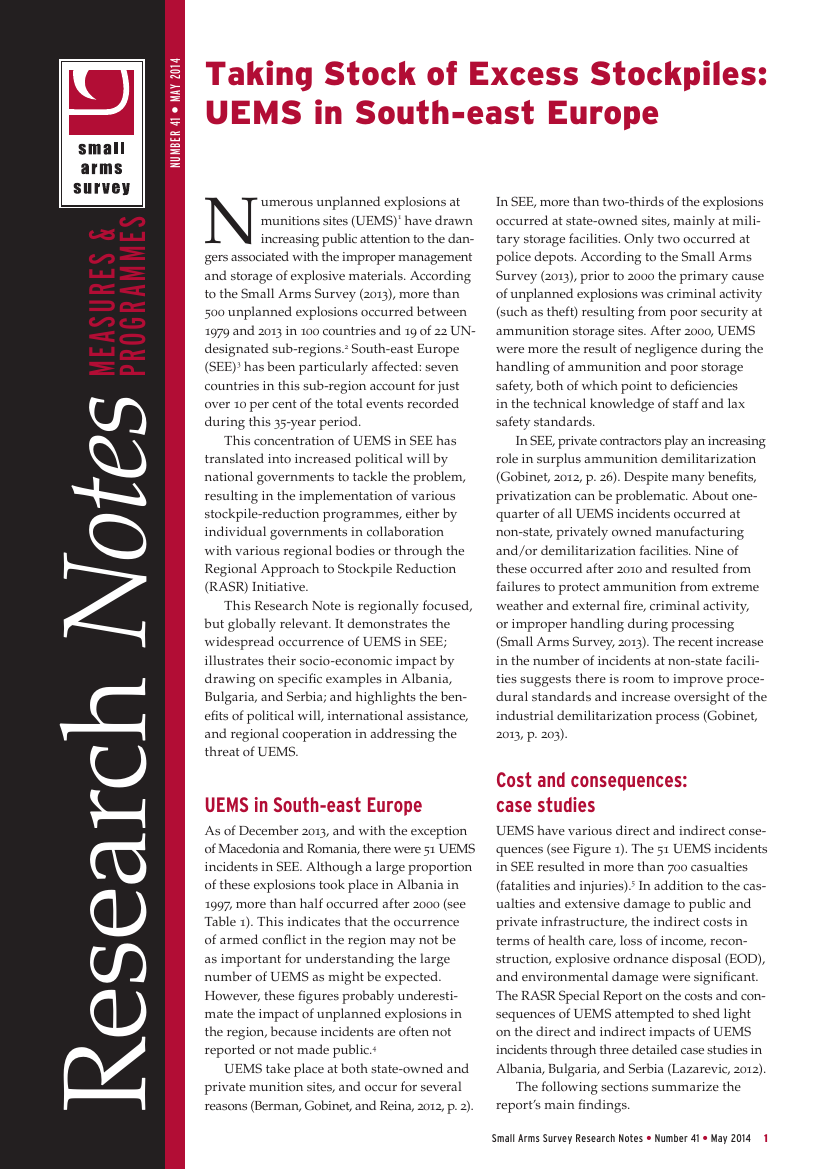 Taking Stock of Excess Stockpiles: UEMS in South-east Europe (Research Note 41)
More than 500 unplanned explosions at munitions sites (UEMS) have occurred between 1979 and 2013 in 100 countries, covering 19 of the 22 UN-designated sub-regions. South-east Europe has been particularly affected, with seven countries in this sub-region accounting for over 10 per cent of the total number of events recorded during this 35-year period.

This concentration of UEMS in South-east Europe has spurred national governments to tackle the problem, leading to various stockpile-reduction programmes, either by individual governments in collaboration with regional bodies, or through the Regional Approach to Stockpile Reduction (RASR) Initiative.

The RASR Initiative brings together affected governments to address the threats posed by excess, unstable, loosely secured or otherwise at-risk stockpiles of conventional weapons and munitions in South East Europe.

The Small Arms Survey Research Note Taking Stock of Excess Stockpiles: UEMS in South-East Europe shows that UEMS events are a serious concern in this sub-region. The study illustrates their socio-economic impact by drawing on specific examples in Albania, Bulgaria, and Serbia; and highlights the benefits of political will, international assistance, and regional cooperation in addressing the threat of UEMS.

This is a joint publication of the Regional Approach for Stockpile Reduction, the US Department of State's Office of Weapons Removal and Abatement, and the Small Arms Survey, released to coincide with the 7th RASR Workshop,  from 12 to 15 May in Sofia, Bulgaria. 
Also available in BCMS and BULGARIAN
Have your say about Small Arms Survey publications and products: take 5 minutes to fill out our questionnaire.
Keywords:
UEMS