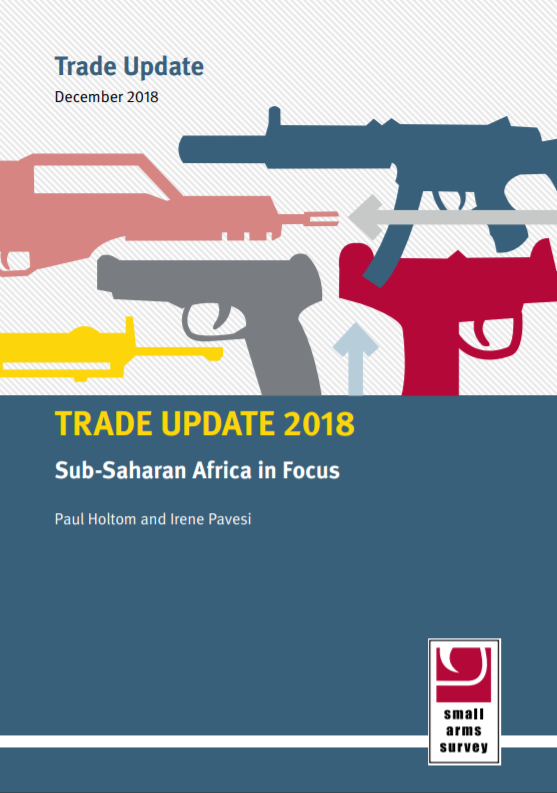 Trade Update 2018: Sub-Saharan Africa in Focus
Publications
Report
Trade Update
The 2018 edition of the Small Arms Survey's Trade Update—analyzing the small arms authorized trade in 2015—finds that the global authorized small arms trade was worth at least USD 5.7 billion in 2015, with small arms ammunition exports valued at USD 2.3 billion. The total value represents a seven per cent decrease between 2014 and 2015, mostly due to a USD 198 million decline in exports by top exporting countries the United States, Brazil, and Italy.  

Sub-Saharan Africa suffers disproportionately from the negative impacts of small arms and ammunition flows on peace, security, stability, and development, yet it only accounts for less than five per cent of the estimated value of the authorized global small arms trade. Due to historically low levels of openness regarding sub-Saharan African small arms production and transfers, identifying major African importers and exporters—as well as suppliers—remains a challenge. Trade Update 2018: Sub-Saharan Africa in Focus uses multiple open sources to tentatively map major sub-Saharan African producers, exporters, and importers of small arms.
The Small Arms Survey identified that at least 15 sub-Saharan African states industrially produce small arms and/or ammunition, namely: Angola, Cameroon, Chad, the Democratic Republic of the Congo, the Republic of Congo, Ethiopia, Kenya, Madagascar, Mali, Namibia, Nigeria, South Africa, Tanzania, Uganda, and Zimbabwe.
Official data indicates that South Africa was the largest sub-Saharan African exporter and importer of small arms during 2013–15. Significant importers during this period include: Angola, Cameroon, Côte d'Ivoire, Malawi, Namibia, Niger, Nigeria, and Uganda.
The largest transparent small arms exporters to sub-Saharan Africa for 2013–15 appear to be Bulgaria, Serbia, France, Spain, and Italy, in descending order of importance. Exporters such as China, the Russian Federation, and Turkey also concluded significant deals to supply small arms to sub-Saharan Africa during this period.
Available in: ENGLISH
Have your say about Small Arms Survey resources: take 5 minutes to fill out our questionnaire.
Keywords:
Trade
Transfers
Transparency
Imports
Exports