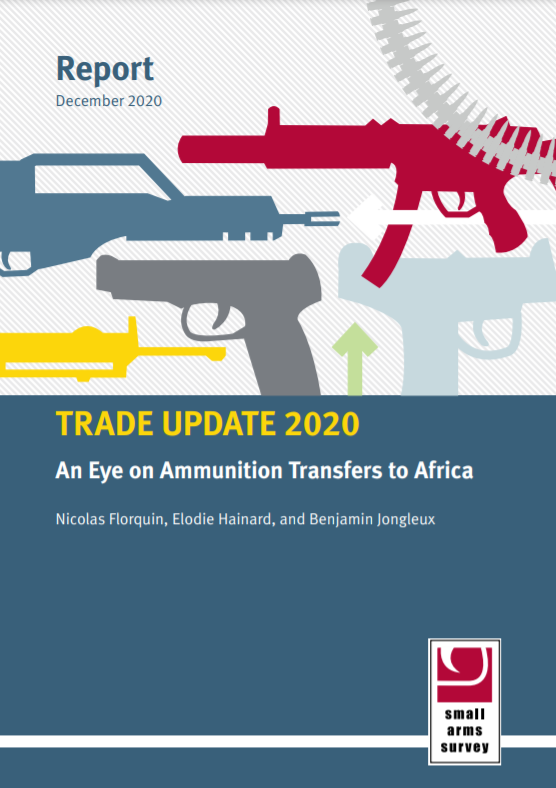 Trade Update 2020: An Eye on Ammunition Transfers to Africa
Publications
Report
Trade Update
Even though states may not intentionally supply materiel to armed groups, a lack of stringent risk assessments on weapons and ammunition exports destined for areas prone to diversion can hamper efforts to curtail the broader illicit arms trade.
The 2020 edition of the Small Arms Survey's annual Trade Update, Trade Update 2020: An Eye on Ammunition Transfers to Africa, delves into cases of authorized small arms ammunition transfers to Africa through exploring the potential of beyond-the-norm data sources. Relying on peacekeeping operations, national customs, and civil society research, the case studies highlight ammunition imports from opaque exporters to countries affected by armed conflict, states subject to arms embargoes, and other areas on the continent equally prone to seeing arms and ammunition diverted from the licit to illicit markets. Ammunition accounted for 42 per cent of all authorized African small arms imports in 2017.
Since countries with low transparency records do export ammunition to government forces in conflict-affected regions and such regions are prone to diversion, there is a gap in risk identification. Therefore, findings from the case studies emphasize the importance of exporters improving their reporting practices and carrying out stringent risk assessments. In addition, the leveraging of multiple data sources can enhance the monitoring of the authorized ammunition trade and help curb unauthorized activities.
Ammunition largest authorized traded small arms category
The report also provides an analysis of the authorized small arms trade at the global level, placing its total worth in 2017 at USD 6.5 billion. This represents a slight (1.35 per cent) decrease from the previous year, likely largely influenced by a 19 per cent decrease in US imports compared to 2016. Conversely, the combined value of imports by the Middle East's top six importers—Saudi Arabia, the United Arab Emirates (UAE), Turkey, Oman, Kuwait, and Qatar—doubled between 2016 and 2017. These six importing states accounted for 20 per cent of global small arms imports in 2017, including 57 per cent of all imported light weapons, 49 per cent of imported military firearms, and 29 per cent of the world's ammunition imports.
Globally, ammunition accounted for 41 per cent of reported small arms exports for 2015–17, with reported and authorized exports of ammunition worldwide worth USD 2.7 billion in 2017. 
Small arms trade transparency continues to lag behind
The 2020 Trade Update also features the 2020 edition of the Small Arms Trade Transparency Barometer—which scores the transparency of top and major exporters' reporting on arms trade activities carried out in 2017 out of a maximum 25 points. Almost unchanged from the 2019 edition, countries scored an average of 12.36, or just about half the available points, in the 2020 Barometer. Switzerland, followed by Germany, the Netherlands, Serbia, and the United Kingdom were identified as the most transparent exporters for 2017; while the least transparent exporters in the same year were Iran, North Korea, Saudi Arabia, Israel, and the United Arab Emirates.
Available in: ENGLISH
Have your say about Small Arms Survey resources: take 5 minutes to fill out our questionnaire.
Keywords:
Trade update
Ammunition
Transfers
Exports
Imports