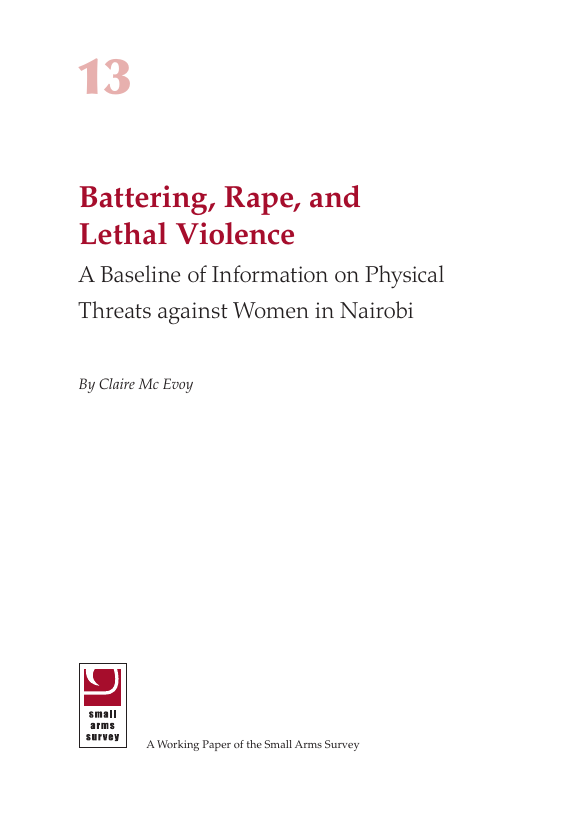 Battering, Rape, and Lethal Violence: A Baseline of Information on Physical Threats against Women in Nairobi (Working Paper 13)
Publications
Working Paper
Almost one-half of Kenyan women have experienced physical or sexual violence, including forced sexual initiation. Much of the violence is barely acknowledged, let alone investigated and prosecuted. Extreme and even fatal acts of violence—targeting poor women in particular—are common enough to be considered unremarkable, a non-issue for the media, the political class, the police, and by extension, the Kenyan state.
Battering, Rape, and Lethal Violence: A Baseline of Information on Physical Threats against Women in Nairobi, documents what is known about the three types of violence, examining the prevalence, perpetrators, and the circumstances surrounding each.
The report reveals a pattern of attacks that range from socially accepted disciplining—such as slapping—of women by their intimate partners, to extreme domestic violence using crude weapons, rape, gang rape, and sadistic methods of sexual and non-sexual torture, resulting in mutilation or violent deaths. Many Kenyans have yet to acknowledge and discuss these issues, and open dialogue about the prevalence and extreme nature of violence targeting women is almost non-existent.
Battering, Rape, and Lethal Violence makes a number of recommendations, including on the need for comprehensive data collection and the setting up of a holistic medical, psycho-social, justice and legal system to respond to the violence, and urgent police reforms.
Available in ENGLISH
Keywords:
Violent deaths
Gender
Armed violence
Gender-based violence
GBV