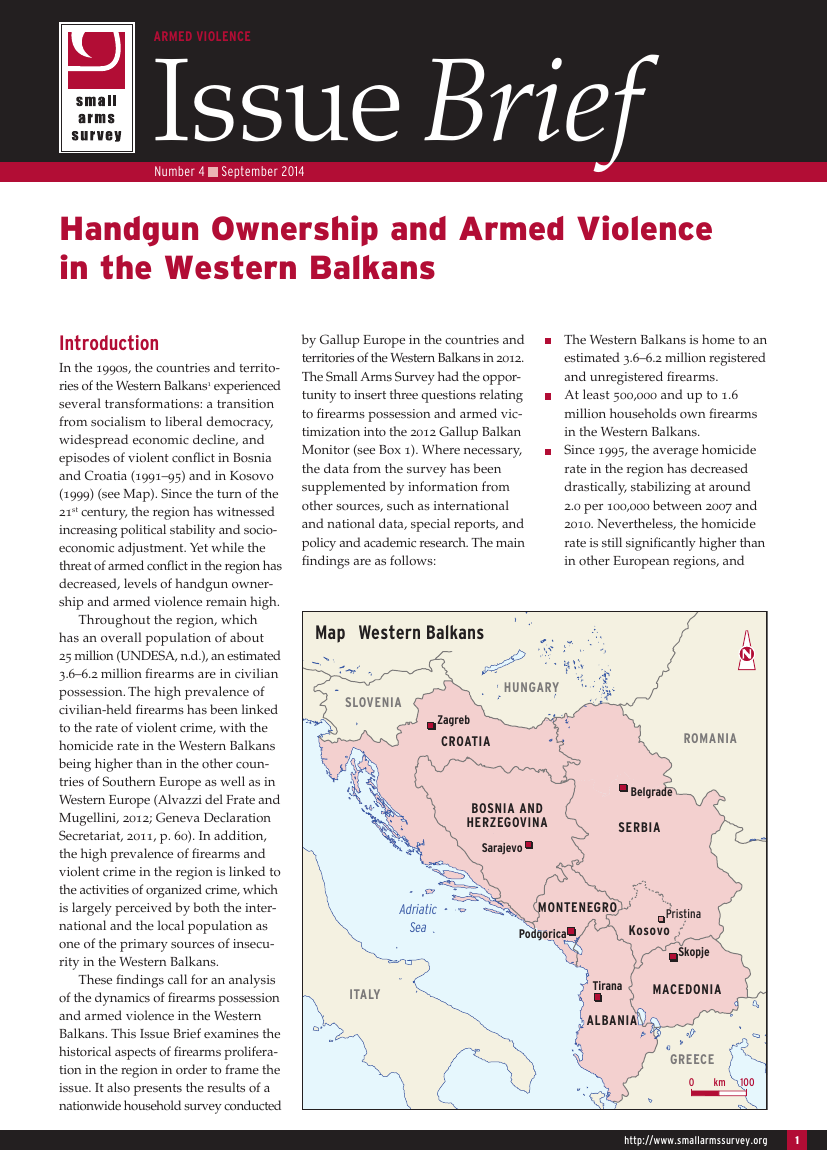 Handgun Ownership and Armed Violence in the Western Balkans (AV Issue Brief 4)
Levels of handgun ownership and armed violence remain high in the Western Balkans region, despite decreased threat of armed conflict during the past fifteen years. Pervasive civilian ownership of firearms has been linked to elevated violent crime, and the homicide rate in the Western Balkans is higher than those of nearby countries. In addition, organized crime activities contribute to insecurity in the region.

A new Small Arms Survey Issue Brief—Handgun Ownership and Armed Violence in the Western Balkans—examines the proliferation of firearms and the post-conflict security dynamics in the region.

A nationwide household survey, which included questions on firearms possession and armed victimization, was conducted by Gallup Europe in 2012. The survey found that an estimated 3.6–6.2 million firearms (both registered and unregistered) are in civilian possession, in a region with an overall population of about 25 million.

Other key findings include:
Between 500,000 and 1.6 million households own firearms in the region.
Since 1995, the average homicide rate in the region has decreased drastically, stabilizing at around 2.0 per 100,000 between 2007 and 2010. Nevertheless, the homicide rate is still significantly higher than in other regions in Europe.
About 1.2 per cent of all survey respondents reported that a household member was held at gunpoint in the 12 months prior to the administration of the survey.
The Western Balkans region includes Albania, Bosnia and Herzegovina, Croatia, Kosovo*, Macedonia**, Montenegro, and Serbia.
*The designation of Kosovo is without prejudice to positions on status, and is in line with UN Security Council Resolution 1244 and the International Court of Justice Opinion on the Kosovo declaration of independence.
**'Macedonia' here refers to the former Yugoslav Republic of Macedonia.
Keywords:
Armed violence