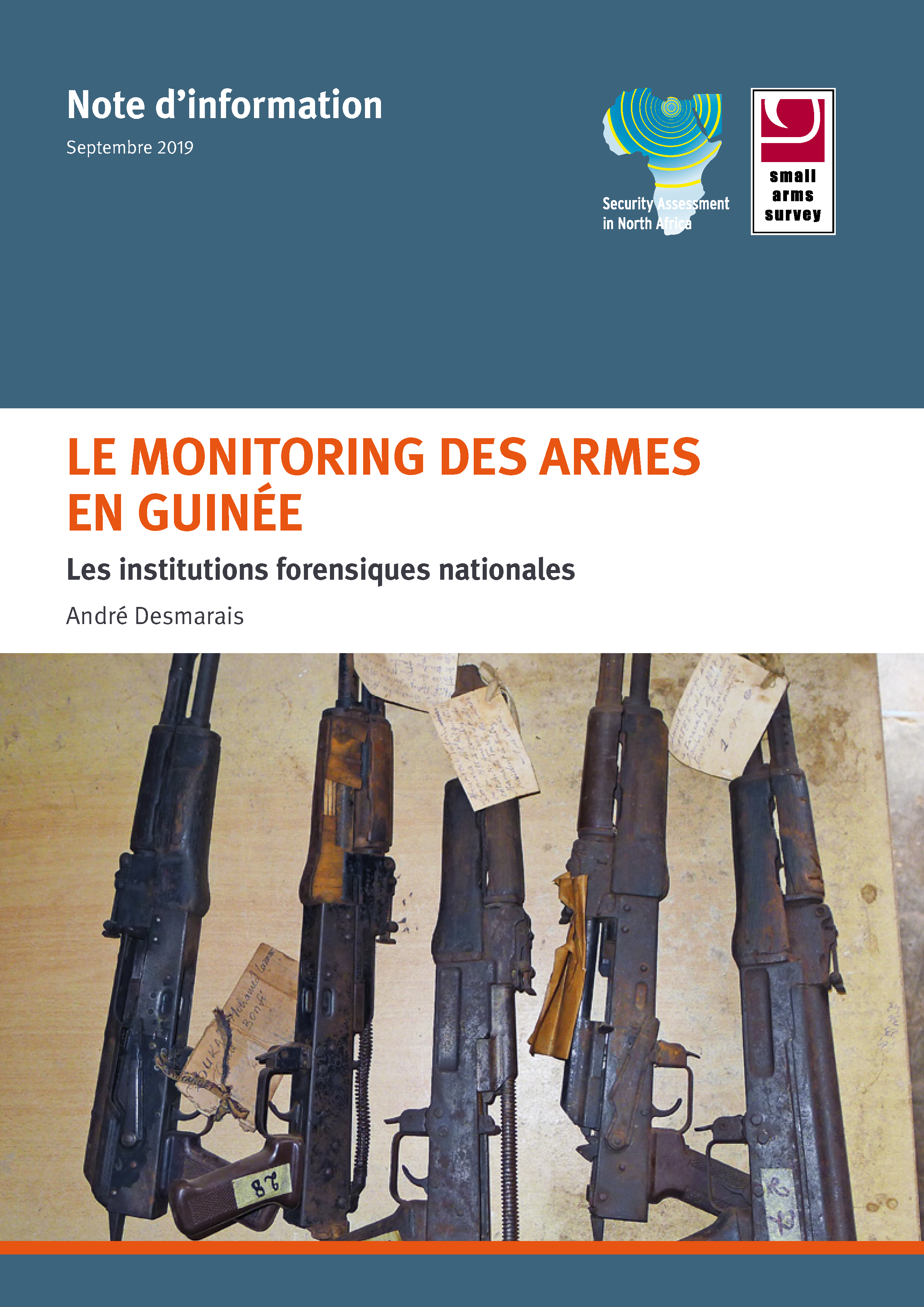 Le monitoring des armes en Guinée: Les institutions forensiques nationales
Publications
Briefing Paper
Les institutions forensiques ont un rôle important à jouer dans les enquêtes criminelles, mais aussi, plus généralement, dans la lutte contre la prolifération des armes illicites. Mais elles ne peuvent le jouer que quand elles en ont les moyens. Cette réalité n'est pas toujours bien comprise, mais elle est prise en considération dans une note d'information portant sur les institutions forensiques guinéennes.
Ce document, intitulé Le monitoring des armes en Guinée : les institutions forensiques nationales, a été rédigé par André Desmarais, expert en balistique, et publié conjointement par INTERPOL et le projet Évaluation de la sécurité en Afrique du Nord du Small Arms Survey. L'auteur s'appuie sur différentes études de cas antérieures relatives aux institutions forensiques tchadiennes, mauritaniennes et nigériennes pour analyser les capacités, limites et besoins des institutions forensiques guinéennes. Il montre notamment que les informations relatives aux calibres, modèles et munitions des armes saisies sont peu abondantes, et que le pays ne dispose pas d'une base de données centrale sur les armes à feu. Partant de ce constat, André Desmarais suggère des voies d'amélioration dans l'intention de soutenir les efforts déployés par la Guinée pour lutter contre les flux d'armes illicites.
----------------------
Forensic science institutions have a key role to play—not only in criminal investigations, but also in the broader fight against illicit arms proliferation. However, their ability to play this role depends on their capacities, which are not well understood. A Briefing Paper (originally published in French) on the forensic services in Guinea aims to fill this gap.
Building on previous case studies on forensic services in Chad, Mauritania, and Niger, Arms Monitoring in Guinea: A Survey of National Forensic Services by ballistics specialist André Desmarais—co-published by INTERPOL and the Small Arms Survey's Security Assessment in North Africa (SANA) project—examines capabilities, limitations, and needs of Guinea's forensic services. It finds that information on calibres, models, and ammunition types of seized weapons is limited, and that the country lacks a central firearms database. Based on this analysis, the study provides tailored suggestions for areas of improvement, as a way to support Guinea in significantly reducing illicit arms flows.
----------------------
Disponible en:  ANGLAIS | FRANCAIS
Have your say about Small Arms Survey resources: take 5 minutes to fill out our questionnaire.
Keywords:
SANA
Illicit trafficking
Forensics
Ballistics