Background
The EU-LAS project was launched in 2019 in order to support the Member States of the League of Arab States (LAS) in sustainably building their national capacities to combat the illicit trade in, and proliferation of, small arms and light weapons. In so doing, the project also supports LAS Member States with their national implementation of the UN Small Arms Programme of Action (UN doc. A/CONF.192/15) and the International Tracing Instrument (UN doc. A/60/88).
The project responds to the needs and priorities identified by LAS Member States regarding illicit small arms, as discussed within the framework of the EU-LAS Strategic Dialogue on Weapons of Mass Destruction, Small Arms and Light Weapons, and Arms Control. The EU funds the project and entrusts its implementation to INTERPOL, the Small Arms Survey (project coordinator), and the World Customs Organization (WCO), working in collaboration with the LAS Department of Arms Control and Disarmament (project focal point).
      > For more information on the training courses offered by INTERPOL, the Small Arms Survey, and WCO, please watch our presentation video, available in Arabic, English, and French
| | | | | |
| --- | --- | --- | --- | --- |
| | | | | |
---
The EU–LAS project
As defined by the EU–LAS Strategic Dialogue, the project covers the following priority areas:
Area 1

 – 

International

small arms transfer control (combating illicit arms flows):
1.1 Export/import/transit licensing and control (risk assessment, etc.)
1.2 Preventing the diversion of small arms to unauthorised recipients
1.3 Detecting small arms and their parts during the inspection of transported goods and cargo (inspection methods, techniques and equipment, etc.)
Area 2 –

Identification and disruption of sources of illicit small arms (capacity building for law enforcement agencies):
2.1 Control of land, air, and maritime borders, including technology transfer
2.2 Marking, record-keeping, and tracing
2.3 Additional techniques and methods for arms investigation and inspection (use of ballistics information, identification/disruption of smuggling routes and methods, etc.)
Area 3

 – 

Other small arms control measures:
3.1 Stockpile management and security
Area 4 –

Disarmament, demobilization, and reintegration (DDR):
4.1 Exchanging DDR expertise, best practices, and lessons learned
4.2 Assistance in designing national DDR programmes
4.3 Other forms of support to LAS Member States during a post-conflict phase
Area 5

 – 

Provision of information relevant to illicit small arms and light weapons and enhanced small arms control:
5.1 Evaluation of the laws and regulations of LAS Member States; advising on possible amendments and revisions
5.2 Translation of relevant research, published studies, and other documents into Arabic
---
EU-LAS phase I, 2019–21
Between June 2019 and February 2020, the project completed the following activities:
an inception meeting

that presented the project to LAS Member States at LAS headquarters in Cairo (June 2019);
three

needs assessment missions, conducted in the United Arab Emirates (UAE), Jordan, and Morocco in November–December 2019, that determined the specific priorities of these States regarding illicit small arms and prepared for in-country training programmes in the same countries;
a

subregional workshop to exchange information and best practices on illicit small arms, held in the UAE, in February 2020, for LAS Member States in Asia; and
training programmes/courses provided to nine LAS States/security services (two in-country, seven online programmes) for a total of 102 days of training. Project courses conveyed critical small arms control expertise to a total of 409 LAS Member State officials, who consistently reported having acquired significant new knowledge of relevance to their work on illicit small arms and light weapons.
Under Priority Area 5.2, the project has a mandate to meet the needs of LAS Member States for independent and reliable information on small arms and armed violence in Arabic. To this end, during phase I it translated 16 publications and other documents into Arabic, which can be accessed here.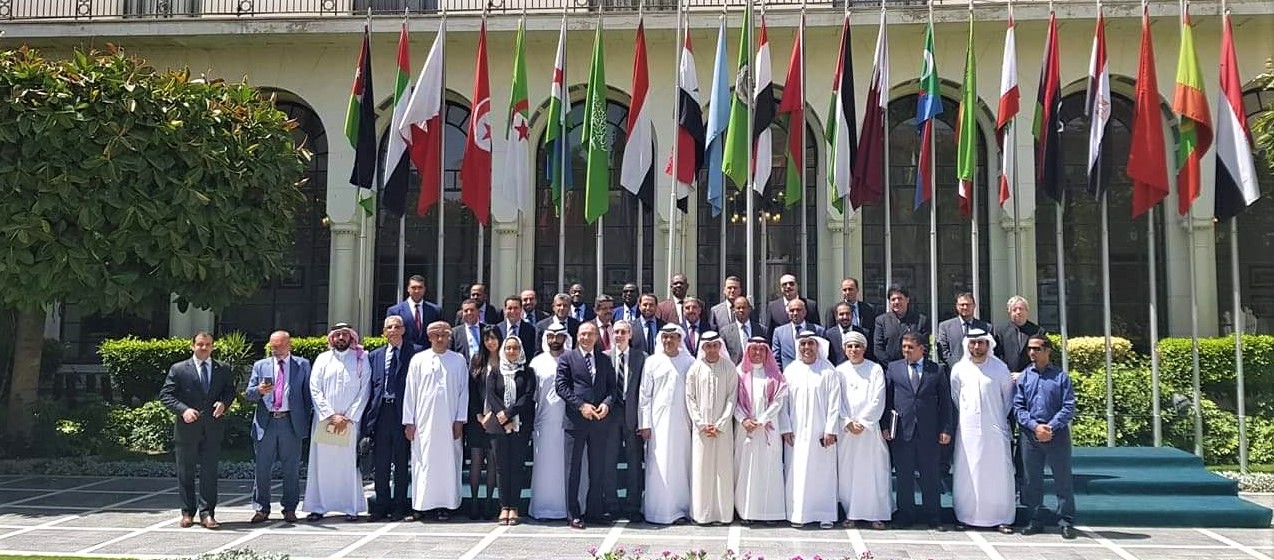 EU-LAS phase II, 2021-24
The EU approved the continuation of the project in Council Decision (CFSP) 2021/1726 of 28 September 2021. This new phase (phase II) of the project is designed to consolidate and strengthen the foundations laid during the project's first phase. The capacity-building efforts begun in phase I will be continued, expanded, and deepened in order to ensure long-term sustainability. LAS Member States that did not receive training in the first phase of the project can receive it in the second. LAS Member States seeking to build on capacities acquired during the first phase will receive the necessary support in the second.
Phase II of the project (1 October 2021 to 30 September 2024) comprises the following activities:
Regional coordination: Cairo inception meeting
Regional coordination: two regional workshops
Regional coordination: Cairo wrap-up meeting
National training
Regional training
Project support for the development of national training curricula
Project facilitation of voluntary joint national field operations
Provision of information in Arabic
The phase II Inception Meeting will be held at LAS headquarters, in Cairo, from 23-25 May 2022. The meeting is designed to evaluate the project to date (Phase I activities) and begin planning for phase II activities. The project will convene its first regional workshop in Morocco in the autumn of 2022. This workshop will offer LAS Member States an opportunity to exchange best practices and lessons learned, and identify national and regional priorities in project-related areas (priority areas 1 to 5).
In 2022, the project is also offering national training programmes to all LAS Member States. The project proposes introductory online programmes for LAS Member States that did not receive project training in phase I followed, as soon as COVID-related factors allow, by in-country training for these countries and for those LAS States that received phase I training.
In 2023–24, the project will add 12 regional training programmes to its list of activities. The regional training events will benefit participants from all LAS Member States at the same time and will include train-the-trainer programmes. Throughout phase II, the project will also provide support for the development of national training curricula through the provision of relevant expertise and documentation. To strengthen the long-term sustainability of project training, the project also stands ready to facilitate the preparation, conduct and analysis of two joint field operations, conducted on a voluntary basis by national security forces from LAS Member States.
Copies of the publications translated to date can be accessed here.
For further information on the project's phase II activities, please see EU Council Decision (CFSP) 2021/1726 in Arabic, English, and French.
---
Contact information
The project thanks those Arab States that have already nominated a national focal point for the project and encourages other LAS Member States to do so at their earliest convenience. Contact information for the national focal points, including any updates to this information, should be sent to the LAS Secretariat. The project will provide the national focal points with up-to-date information on the project and liaise with them to organize, upon request, project training.

For further information on the project, please contact: