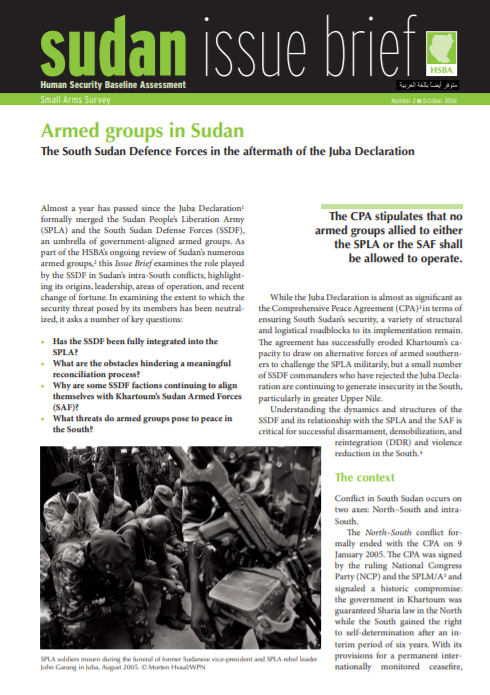 Armed Groups in Sudan: the South Sudan Defence Forces in the Aftermath of the Juba Declaration (HSBA Issue Brief 2)
Almost a year has passed since the Juba Declaration formally merged the Sudan People's Liberation Army (SPLA) and the South Sudan Defense Forces (SSDF), an umbrella of government-aligned armed groups. As part of the HSBA's ongoing review of Sudan's numerous armed groups, Armed Groups in Sudan: the South Sudan Defence Forces in the Aftermath of the Juba Declaration examines the role played by the SSDF in Sudan's intra-South conflicts, highlighting its origins, leadership, areas of operation, and recent change of fortune. In examining the extent to which the security threat posed by its members has been neutralized, it asks a number of key questions:
Has the SSDF been fully integrated into the SPLA?
What are the obstacles hindering a meaningful reconciliation process?
Why are some SSDF factions continuing to align themselves with Khartoum's Sudan Armed Forces (SAF)?
What threats do armed groups pose to peace in the South?
While the Juba Declaration is almost as significant as the Comprehensive Peace Agreement (CPA) in terms of ensuring South Sudan's security, a variety of structural and logistical roadblocks to its implementation remain. The agreement has successfully eroded Khartoum's capacity to draw on alternative forces of armed southerners to challenge the SPLA militarily, but a small number of SSDF commanders who have rejected the Juba Declaration are continuing to generate insecurity in the South, particularly in greater Upper Nile. Understanding the dynamics and structures of the SSDF and its relationship with the SPLA and the SAF is critical for successful disarmament, demobilization, and reintegration (DDR) and violence reduction in the South.
Also available in ARABIC
Have your say about Small Arms Survey publications and products: take 5 minutes to fill out our questionnaire.
Keywords:
HSBA
SSDF
CPA