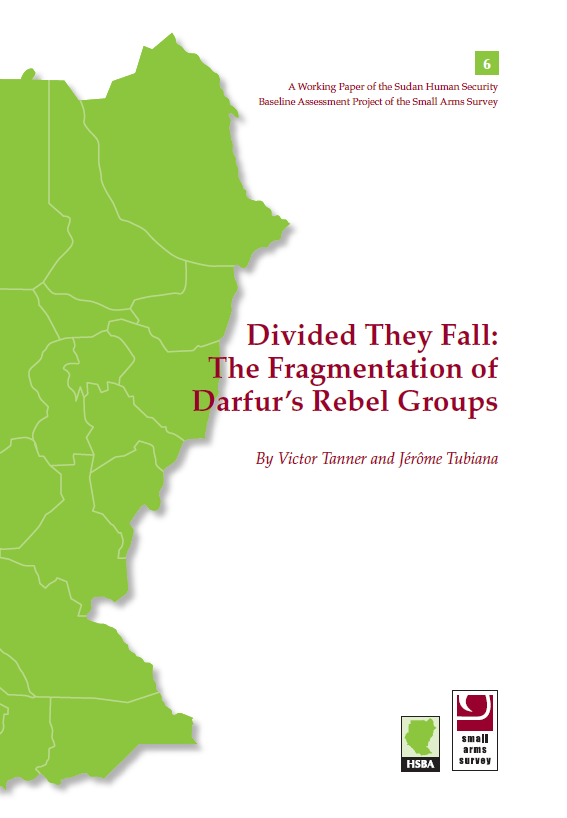 Divided They Fall: The Fragmentation of Darfur's Rebel Groups (HSBA Working Paper 6)
Publications
Working Paper
In early 2003, after several years of simmering violence, rebel groups in Darfur launched a full-scale rebellion against Sudanese government targets. Two groups emerged. The Sudan Liberation Army (SLA) enjoyed early successes, capturing el-Fasher airport, but then nearly succumbed to Khartoum's brutal counter-offensive. It was further weakened by internal tensions between its two leaders, Abdel-Wahid Mohammad Nur (a Fur) and Minni Arku Minawi (a Zaghawa). The Justice and Equality Movement (JEM) was more developed politically than the SLA but less significant militarily. The JEM's narrow Zaghawa Kobe ethnic base further undermined it, as did the Islamist past of many of its leaders, particularly the chairman, Dr Khalil Ibrahim. Only one faction of the divided SLA (SLA-Minni) signed the Darfur Peace Agreement in Abuja, Nigeria in May 2006. In the 12 months since, SLA-Minni has all but withered, while the non-signatory groups, especially the Group of 19, beat back a Sudanese army offensive under the banner of a new, united group, the National Redemption Front. The rebels' new-found unity was undermined by a lack of political cooperation, however, and collective military resilience was not enough to keep them together. By late 2006, the non-signatory rebels had splintered into a variety of groups. Any political solution in Darfur will first require that the rebels unite, and this is increasingly difficult with the rapid proliferation of groups. The international community has been so far unwilling to invest the time and effort to support a unification effort, which will be by definition a long-term endeavour. Without that unity, however, there will be no sustainable peace in Darfur.
Find out more in Divided They Fall: The Fragmentation of Darfur's Rebel Groups.
Also available in ARABIC.
Have your say about Small Arms Survey publications and products: take 5 minutes to fill out our questionnaire.
Keywords:
HSBA
Darfur