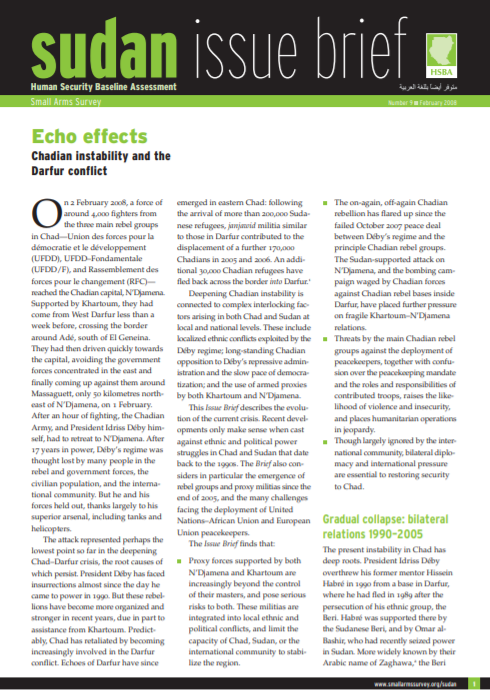 Echo Effects: Chadian Instability and the Darfur Conflict (HSBA Issue Brief 9)
On 2 February 2008, a force of around 4,000 fighters from the three main rebel groups in Chad—Union des forces pour la démocratie et le développement (UFDD), UFDD–Fondamentale (UFDD/F), and Rassemblement des forces pour le changement (RFC)— reached the Chadian capital, N'Djamena. Supported by Khartoum, they had come from West Darfur less than a week before, crossing the border around Adé, south of El Geneina. They had then driven quickly towards the capital, avoiding the government forces concentrated in the east and finally coming up against them around Massaguett, only 50 kilometres northeast of N'Djamena, on 1 February. After an hour of fighting, the Chadian Army, and President Idriss Déby himself, had to retreat to N'Djamena. After 17 years in power, Déby's regime was thought lost by many people in the rebel and government forces, the civilian population, and the international community. But he and his forces held out, thanks largely to his superior arsenal, including tanks and helicopters.
The attack represented perhaps the lowest point so far in the deepening Chad–Darfur crisis, the root causes of which persist. President Déby has faced insurrections almost since the day he came to power in 1990. But these rebellions have become more organized and stronger in recent years, due in part to assistance from Khartoum. Predictably, Chad has retaliated by becoming increasingly involved in the Darfur conflict. Echoes of Darfur have since emerged in eastern Chad: following the arrival of more than 200,000 Sudanese refugees, janjawid militia similar to those in Darfur contributed to the displacement of a further 170,000 Chadians in 2005 and 2006. An additional 30,000 Chadian refugees have fled back across the border into Darfur.
Deepening Chadian instability is connected to complex interlocking factors arising in both Chad and Sudan at local and national levels. These include localized ethnic conflicts exploited by the Déby regime; long-standing Chadian opposition to Déby's repressive administration and the slow pace of democratization; and the use of armed proxies by both Khartoum and N'Djamena.
Echo Effects: Chadian Instability and the Darfur Conflict describes the evolution of the current crisis. Recent developments only make sense when cast against ethnic and political power struggles in Chad and Sudan that date back to the 1990s. The Brief also considers in particular the emergence of rebel groups and proxy militias since the end of 2005, and the many challenges facing the deployment of United Nations–African Union and European Union peacekeepers.
Also available in ARABIC and FRENCH.
Have your say about Small Arms Survey publications and products: take 5 minutes to fill out our questionnaire.
Keywords:
HSBA
Darfur