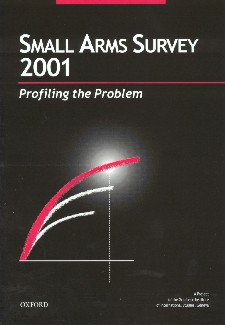 Small Arms Survey 2001: Profiling the Problem
English
Français
German
Portuguese
Spanish
The Small Arms Survey 2001: Profiling the Problem is an authoritative guide to all aspects of the problem of small arms and light weapons. It focuses on both small arms themselves (production, transfers, stockpiles), and on the processes and impacts of their world-wide proliferation.
Specific sections deal with issues such as arms brokering, the role of small arms and light weapons in particular conflict zones, current international initiatives and projects to stem their proliferation, and with broader social and economic effects (crime, public health, development).
Its blend of data and analysis makes it an indispensable tool for policymakers, activists, and researchers around the world.
Executive Summary
ENGLISH, FRENCH, GERMAN
Introduction
ENGLISH
Chapter 1. Small Arms, Big Business: Products and Producers
Full chapter: ENGLISH
Summary: ENGLISH, FRENCH, GERMAN, PORTUGUESE, SPANISH
Chapter 2. Half a Billion and Still Counting: Global Firearms Stockpiles
Full chapter: ENGLISH
Summary: ENGLISH, FRENCH, GERMAN, PORTUGUESE, SPANISH
Chapter 3. Fuelling the Flames: Brokers and Transport Agents
Full chapter: ENGLISH
Summary: ENGLISH, FRENCH, GERMAN, PORTUGUESE, SPANISH
Chapter 4. A Thriving Trade: Global Legal Small Arms Transfers
Full chapter: ENGLISH
Summary: ENGLISH, FRENCH, GERMAN, PORTUGUESE, SPANISH
Chapter 5. Crime, Conflict, Corruption: Global Illicit Small Arms Transfers
Full chapter: ENGLISH
Summary: ENGLISH, FRENCH, GERMAN, PORTUGUESE, SPANISH
Chapter 6. After the Smoke Clears: Assessing the Effects of Small Arms Availability
Full chapter: ENGLISH
Summary: ENGLISH, FRENCH, GERMAN, PORTUGUESE, SPANISH
Chapter 7. Tackling the Small Arms Problem: Multilateral Measures and Initiatives
Full chapter: ENGLISH
​​​​​​​Summary: ENGLISH, FRENCH, GERMAN, PORTUGUESE, SPANISH​​​​​​​
Keywords:
Yearbook
Trade update
Illicit trafficking