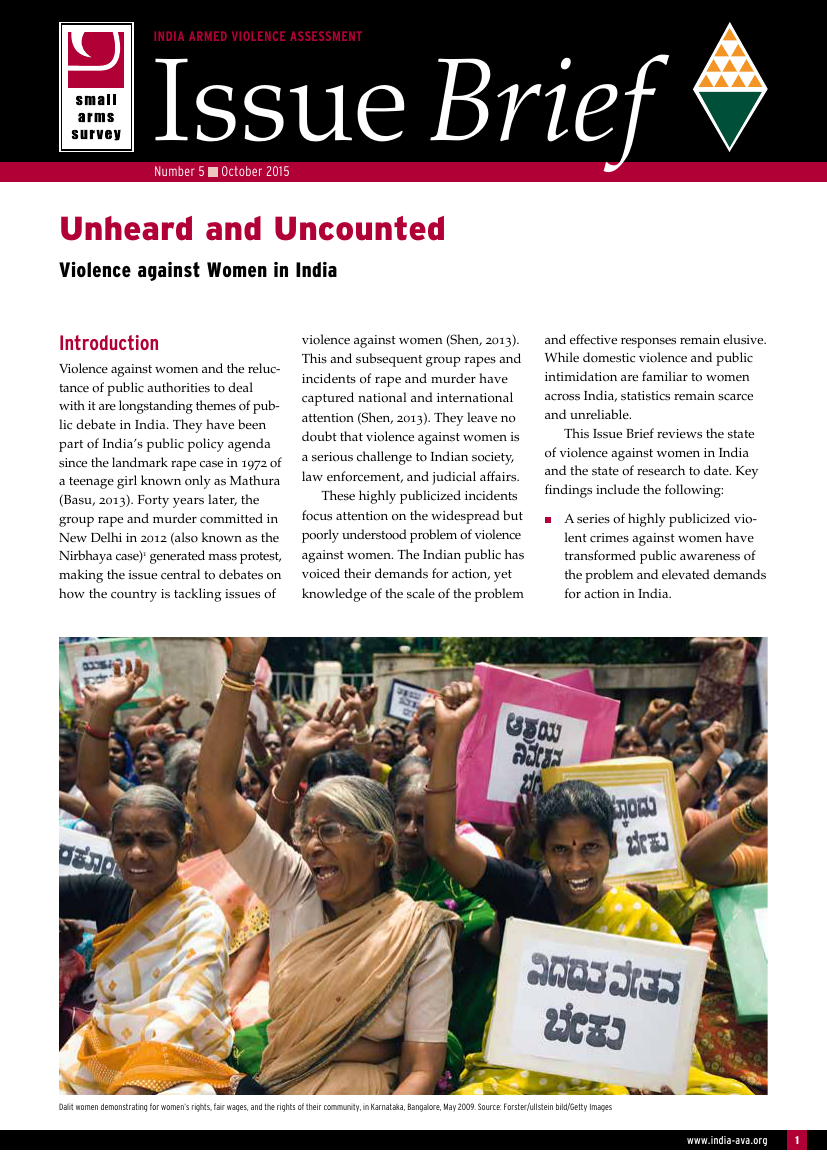 Unheard and Uncounted: Violence against Women in India (IAVA Issue Brief 5)
Violence against women, and the reluctance of authorities to deal with it, present a serious challenge to Indian society, law enforcement, and judicial affairs. Numerous incidents involving group rapes and rape and murder—such as the Nirbhaya case in New Delhi in 2012—have captured national and international attention. While domestic violence and public intimidation are familiar to women across India, statistics remain scarce and unreliable.
A new Issue Brief from the Small Arms Survey's India Armed Violence Assessment project, Unheard and Uncounted: Violence against Women in India, discusses the prevalence of violence against women in India and the status of research to date.
The Issue Brief finds:
Underreporting appears to affect virtually all forms of violence against women in India, including rape. Estimates of the proportion of rapes in India reported to police range from 1 in 10 to 1 in 200. Such estimates suggest as many as several million rapes are unreported annually.
A range of violent social practices, including selective abortion and foeticide, regional cultures of violence, and armed conflict, elevate the danger of violence in India, specifically against women.
Improved monitoring and measurement of trends in violence against women are essential to improve policy-making and interventions for victims.
Comprehensive police reform—including more police, including more women staff, who are dedicated to serving victims and are free of corruption—is essential for responding to violence against women.
In addition to institutional reforms, social change is a key part of the solution to problems of violence against women in India, from changing attitudes towards women in general to assumptions about domestic relations.
Have your say about Small Arms Survey publications and products: take 5 minutes to fill out our questionnaire.
Keywords:
Armed violence
IAVA